Neal's Gun Blog
12/06/2018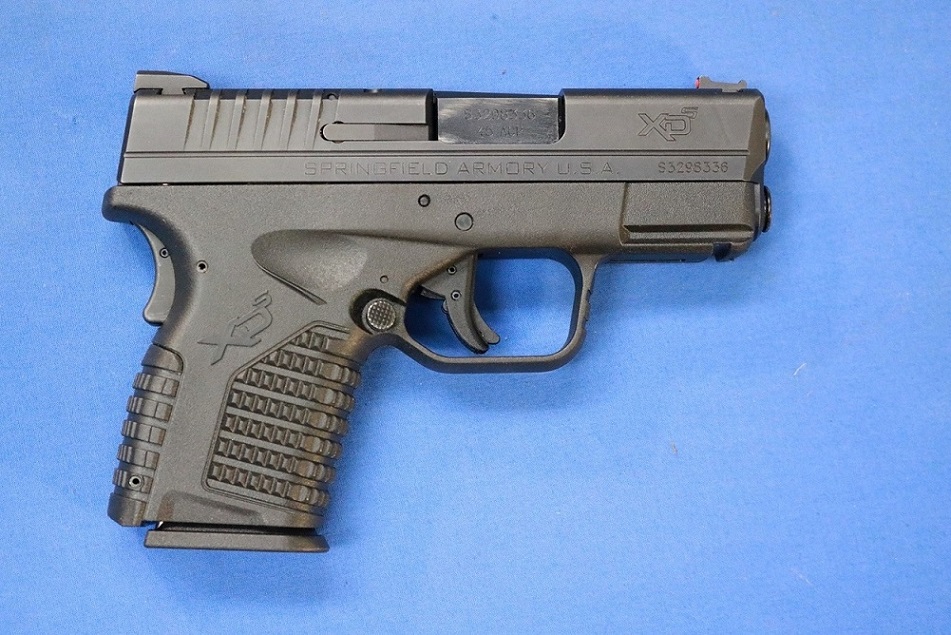 So let's establish something up front. Due to their ideal dimensions and ergonomics, I love the Glock 9mm's, but have never had much use for their .45 caliber guns. I'm not against them, but the grips feel just a bit awkward for me. The full sized 21 feels like a brick, the compact 30 feels like a short brick, and the compact, single-stack 36 feels like a thin brick. It's almost like they took a good gun that was designed around the 9mm and tried to outsize it into a .45…..
Regardless, Glock does offer a good selection of high-quality bricks, I mean guns in .45 ACP. I just shot them next to a Kahr and a Springfield. Here's what it looked like.
I always tell people that you can't get a good feel for how you will like a gun until you've shot it. Expectations can change, sometimes drastically, when you go from handling a gun over the retail counter to having that same gun try to leap out of your hands on the range, and that scenario can go both ways. Let me break it down for ya…
Had you asked me which gun(s) I liked the most before I walked out on the firing line, I would have chosen the Kahr CM45 and the Glock 30, just going off the pure feel of how they felt and handled. The Glock 30 Gen 4 is apparently slim enough that I can appreciate it as a well-rounded brick. The Kahr felt great. I thought both the XD-S and the Glock 36 felt too thin and sharp, and would likely bite quite a bit under the .45 recoil.
I lined them up and shot them all, going 2 shots at a time between each gun, and loading the mags twice. Starting with the Glock 36, I moved to the Glock 30, the Springfield XD-S, and finally the Kahr. Then rinse, repeat. Now understand that small plastic guns in .45 ACP are just not going to be very comfortable to shoot. Period. You are essentially launching a bowling ball out of an airsoft gun, and the thing is going to jump. A lot. That was my expectation going into this little experiment, and none of my chosen lineup disappointed. Here is what I thought about them.
The Glock 36 – it works well enough, and I would describe its recoil and general feel as pretty middle-of-the-road for a gun of that type. In other words, it met expectations almost verbatim. I didn't love shooting it, but I didn't expect to.
The Glock 30 – definitely easier to shoot than the 36. The double stack frame gives you a larger grip area and has less bite when it recoils. I expected to like it better than the other guns, and for the most part I did.
The Springfield XD-S 3.3 – I tried this one with both the 5-round and the extended 7-round magazine, and the gun exceeded my expectations on every count. It jumped, sure, but what impressed me the most was how consistently and accurately I could shoot it. The extended magazine did make the shooting experience slightly easier and more comfortable, but my accuracy was about the same with either of the mags in the gun.
The Kahr CM45 – I could look up the weight specs on this gun real quick, but it would just reaffirm that the gun is indeed feather light, and slaps the heck out of you when you touch it off. I enjoyed shooting it….not at all. Of the four, it came in dead last by a significant margin. Accuracy wasn't bad, but the shooting experience was.
To wrap this up, the two that surprised me the most were the Springfield and the Kahr. The Glock's did exactly what I thought they would do, and to be fair, I had fired both of them multiple times previously. The Kahr was a bit of surprise in that I just didn't like it at all when I rather expected to. The Springfield was a surprise in that I expected to not like it very much, and it was hands-down my favorite of the bunch. I found it a bit harder to hang onto than the Glock's, but I also found that I kept putting bullets in the exact same places (or at least very close to the same places). I find that to be an endearing and admirable trait in a handgun.
To be sure of my conclusions, I loaded up 5 more rounds in the XD-S, ran a target out to 7 yards, and fired off a group that measured right at 1.75", with 3 shots clover-leafed in the top of the bullseye, and 2 shots touching just above them. The recoil out of that little dude is daunting enough that I wouldn't be first in line to buy one, but if you told me I absolutely HAD to carry a small gun in .45 ACP, I know which one I'd choose.
- Neal
10/26/2018
Shooting Tiny .45's - Part 1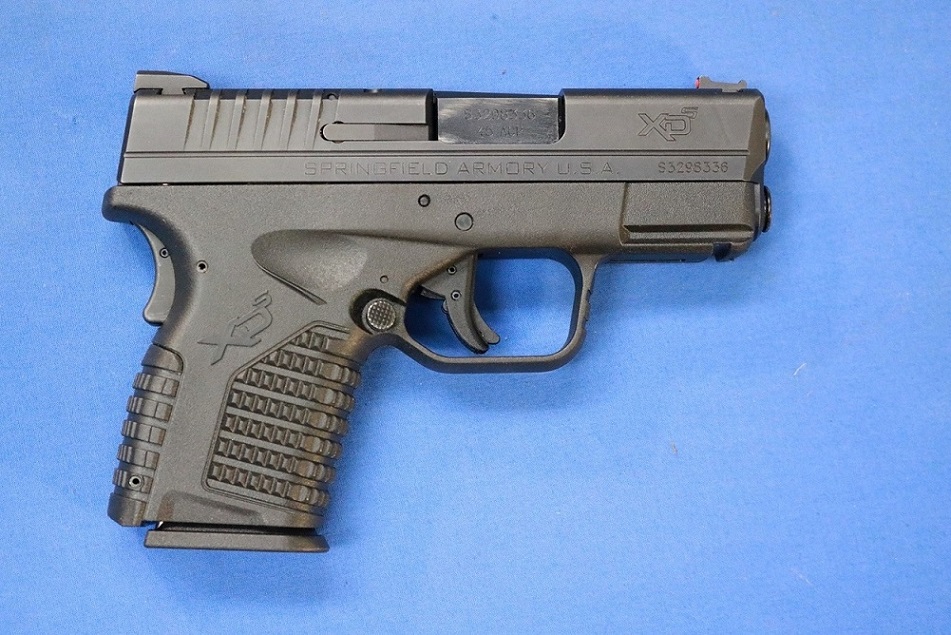 I recently had the opportunity to pick up and test a little Springfield XD-S sub-compact pistol in .45 ACP. This was the 3.3" model, and when loaded with the standard 5-round magazines, I found it to be more than diminutive for a .45 caliber gun. I thought it both intriguing and rife with possibilities, so had to test it on the range as soon as possible.
For small guns, about the only caliber I like or really have much use for is a 9mm. Now, I could go into all the reasons for that, but we're currently engaged in the discussion of tiny .45's, which are not 9mm's, so I'll just package that rabbit trail for another time.
The XD-S in .45 ACP is, by necessity, larger than most sub-compact guns, especially those little .380 models that aren't much more than a keychain. I'm glad I'm not a smoker, because I could easily confuse some of those microscopic .380 guns for a novelty cigarette lighter. That would be a most startling way to light up….
In the interests of parity and reasonable comparison, I decided to get the little beast saddled up next to a couple of other small .45 caliber guns. The Glock 30 Gen 4, while larger, seemed like a reasonable benchmark for such a gun, so I pulled that out on the range, and also grabbed a Kahr CW45 that had stuck its head in the shop the previous week, possibly in search of a decent hollow-point. The Kahr brand doesn't usually burn up the sales register, but they're actually nice little guns, and the CW45 feels good to handle.
I don't believe SIG is currently making the subcompact P320 in a .45 ACP, but I decided to also test a Glock 36, as it would compare more closely to the Springfield than would the double-stack model 30.
I ignored our selection of 3" 1911 guns, as I was loathe to insert a metal gun into a polymer discussion.
Then it was range time.
- Neal
10/12/2018
Making the SKS Weird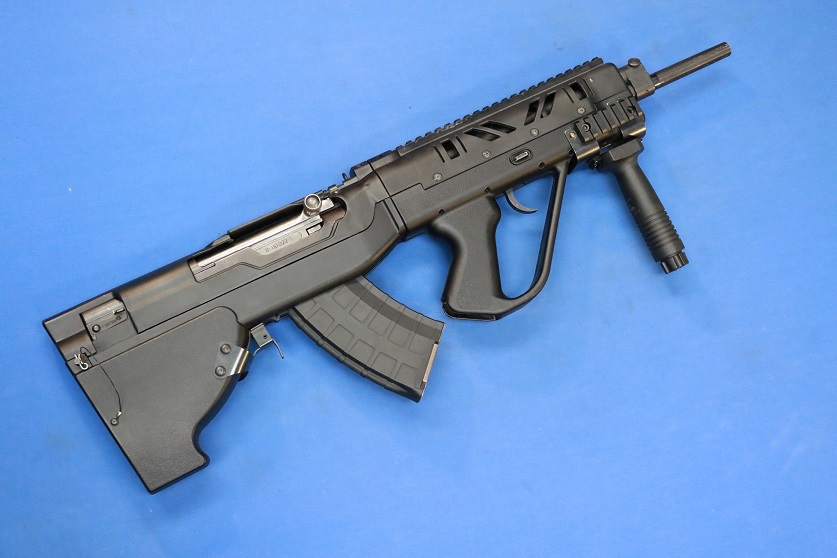 One thing I love about working in a large and reputable purveyor of firearms is that everything, and I mean literally everything, eventually comes through our door. The rare, the valuable, the oddities, the junk, and yes, the absolutely weird guns of this world all trundle through our shop at some point. I've seen $150,000 guns, pinfire revolvers, Scottish dueling pistols, cringe-worthy derringers that would barely rate as a decent paperweight, and everything in between. Today we're going to dive into something that I was initially tempted to categorize as junk, but have upgraded to oddity. Don't stop now. Keep reading.
Ladies and Gentleman, in this week's edition of "What the Heck?" we have an SG Works bullpup conversion of an SKS rifle, that looks rather like a Steyr AUG. If you need to read that again go ahead. I'll wait.
I don't keep a tight finger on the pulse of the assault rifle community, and don't frequent gun shows, so maybe everyone else in the firearms world was privy to this idea, and bullpup SKS conversions are growing on trees in other parts of the nation, but it was a first for me.
As previously stated, I'm not much into assault rifles. Sure, I own an AR, because I'm a gun-owner and you kind of need to own one for pending apocalypses, fictitious or otherwise, but in reality I use it kind of the way I use Thai restaurants – about once every couple years just to try something different.
That being said, the SKS rifle has always appealed to me, and I have owned and shot them over the years. I think in design and function, it's about perfect for its intended purpose, and I really love the original Russian Tula Arsenal guns from the 50's. Those are darn nice rifles, and I find they are quite accurate out to their intended range with the open sights.
As a modern assault weapon, the SKS has two viable strikes against it: the relatively limited 10-round capacity, and the fact that there's really no great way to scope the thing without rearranging the gun into something else with crazy custom parts that are lacking in aesthetics, and usually at unjustifiable expense. I am constantly amazed at the lengths people will go to in their attempts to turn an SKS into an AK-47 or an AR-15. It's neither of those things. For my money, the darn thing was fine just the way it left Russia. If you want an AK or an AR, then buy one. Just my bemused $0.02.
So, I said all that to say this. I've encountered something beautifully weird and odd, but that actually works. I… I shot the gun, and I liked it.
To Continue Reading, Click Below:
10/03/2018
Unicorns, Fairy Dust, and the SIG P365


Since SIG Sauer officially announced the arrival of the P365 compact 9mm pistol in January of this year, I have struggled to recall when last I saw a gun surrounded by more hype and less availability. For months, questions and inquiries abounded, while actual sightings of the pistol were discussed among conspiracy theorists and Bigfoot apologists.
Blogs and forums sprang up as eyewitness accounts began to seep out from people who had actually seen a SIG Sauer P365. Some claimed to have handled one, and a lucky few boasted of having shot one. Mostly the accounts were unsubstantiated claims of hunters and outdoorsman who simply "heard one call in the woods".
As we approach another January, SIG has apparently produced enough of the model to where a quick perusal of the interwebs shows more than a few dozen available, although the answer from most SIG distributors continues to be that they are on allocation, and so unavailable.
Regardless, on a recent full moon when the planets were aligned, and fairies twinkled in the nearby fields, we took in our first P365. It gave off a faint aura from its halo as angels sang, and unicorns danced through the shop. For a moment, all rivers ran north. The earth slowed on its axis. Somewhere, a personal injury lawyer told a small truth.
Not really. Well, I mean, all of it but the last part. Took us forever to herd the unicorns out the back door, and the cleanup was much worse than you'd expect.
So what is the P365 like? Well, it's really, really nice, and I would say that the hype was not unwarranted. I'm a pretty medium-sized dude with medium-sized hands, and my first impression was that it felt really good in the hands. The front sight is a very sizeable luminous green dot with tritium insert, and it pops nicely into view between the dots of the tritium rear sight. Trigger has the initial spongy creep you'd expect from a striker-fired gun, but breaks easily enough.
Now, all this assessment is purely academic until you actually test it on the range, so that's where I went next. I loaded it up and put it through some paces.
I carried and shot a Glock 26 for years, and it pretty well established my personal benchmark expectations for a sub-compact 9mm. Very concealable, has sights and trigger that shoot at least comparably to a full-size pistol out to 10-15 yards, and with easily manageable recoil.
How did the P365 stack up to my expectations? Well, I have no qualms in saying that it exceeded them. Grip size and angle are a very subjective topic, but I would hazard that the SIG felt better than my Glock, and sight acquisition was superior. Grip is just long enough that I can get all of my fingers on the gun. Shooting a Glock 26, I always had to curl my pinkie under the grip, and while I don't believe it made any difference in my ability to shoot, I do prefer all fingers on the gun. It just feels better. Recoil from the P365 was very pleasant out of such a small frame gun, and it was easy to control.
I'm not a world-class handgunner, or even great, but I don't suck either. When I can put 5 shots touching a 2.5" circle at 10 yards out of a sub-compact pistol, I'm ready to call it a day. I handed the little SIG off to our pistol instructor, Paul, and he ran a target out to 15 yards and shot a 2" group using only his strong hand while the target was still swaying on the cable. Show off.
The point here is that the little P365 is more than accurate enough for any self-defense scenario you might encounter.
So what's my conclusion on this exclusive and extraordinary little SIG? Well, it won't be the right pistol for everyone. It won't revolutionize the gun industry or cause everyone to trade in their Springfield or Glock or Smith & Wesson. But if you are considering your options for a sub-compact carry pistol in 9mm, I'd recommend a long and serious look at the SIG Sauer P365. You might even catch a unicorn.
- Neal
For more blog posts, click here:
09/20/2018
The 6.5 Creedmoor – A Tale of Love at Third Sight
I'm not a band wagoner, nor a follower of trendy fads. Not even close. Now the downside to this is that sometimes when something great comes along, I'm the last one to clamber aboard. So unfolds the following tale…

Anytime I hear about a great new cartridge on the market, I casually reach for my Pre-64 Model 70 Winchester .30-06 and say, "Oh, that's neat. Talk to me in 10 years."
If people are still buying it in significant numbers a decade after its introduction, we can start a conversation. You may see the 7mm STW for reference. Or the .25 WSSM. Oh, hey, .45 GAP anyone?

Several years ago at a distributor show, this little blip of a cartridge came across my radar, to wit, a new 6.5 cartridge named Creedmoor. Having more than a little appreciation for that particular under-rated bullet diameter, I immediately inquired into its lineage, and multiple industry sources indicated that it was basically a .308 Win necked down to a .26 caliber. The truck bearing my enthusiasm suffered a broken axle and slewed into a ditch.
The .260 Rem, version 2.0.
The Wheel. Reinvented.
My mental reaction was a polite golf clap followed by a bellowed, "What else?!" and I quickly moved on towards the nearest table of shiny objects shaped like bolt action rifles.
In later discussion, I found out that the 6.5 was developed by Hornady, and I filed that tidbit away for future reference, as I have a healthy respect for the good folks at that company. They know their business, and do it very well. Regardless, the 6.5 Creedmoor blip faded and moved completely off my radar, at least for the time being.
Then everyone started coming into the store, asking for and buying rifles in 6.5 Creedmoor. I would occasion across random gun articles touting its attributes at extreme ranges, and increasingly by People Who Know About These Things. I started poking around into who was winning what rifle matches with what caliber, and the 6.5 kept cropping up. Dredging up the tattered shreds of my Creedmoor interest, I dove back into the cartridge with renewed enthusiasm.
So it's not EXACTLY a .308 necked down. It's based off of a rimless .307 Winchester, which is a rimmed, thicker version of the .308 Winchester. What's the old joke that says rattlesnake meat tastes like frog legs, and frog legs taste like chicken? So the parent case of the 6.5 is the .307 Winchester, and the parent case of the .307 is the .308 Win. If you successfully read that paragraph while preserving some measure of sanity, you are to be commended.
Anyway, the basis for the development of the Creedmoor was to intentionally create a high-performance long range cartridge that would shoot high-Ballistic Coefficient bullets (but also fit short action rifles), have low recoil, offer readily available factory ammo at reasonable prices, be very reloader-friendly, and have long barrel life. By the almost unanimous industry-wide feedback, the developers went 5-for-5 in nailing down those particulars.
The good guys over at Hornady took the .307 Win, did away with the rim, and shortened it, giving it a bit less body taper and sharper shoulder angle than its older cousin, the .260. The 26- caliber offering from Remington certainly did very well at long range matches, but a relative shortcoming of the .260 Remington was that with longer match bullets, the projectiles had to be seated very deeply to keep overall cartridge length in check. The shorter 6.5 needs no such handicap and can have the longest .26 caliber bullets seated at normal depths.
What's the advantage of longer bullets? I'm glad you asked. Generally speaking, (although there are other factors), longer bullets are heavier for caliber, boast a higher Ballistic Coefficient, and also a higher Sectional Density. What does this mean to you, the shooter? There are reams of technical data and specs and entire articles devoted to those two topics, but to break it down in simple terms:
High Ballistic Coefficient – Goes Farther Faster, with less drop and wind drift.
High Sectional Density – Kills Stuff Better when it gets there, by which I mean superior penetration and bullet performance on live critters.
Now this… this is the stuff that gets me hoppy-cited. You see, I only and always shoot heavy-for-caliber bullets in all my rifles. My 7mm Mag? Only 160-grain or heavier need apply. And oh, dear .30-06 of mine, why shouldest thou shoot aught less than a 180-grain missile? And thou, oh .270 Winchester of my heart, why dost thou fret at the 150-grain feedings, and only group well with 130-grains? Verily shalt thou be sold, and thine inheritance given to another!
By which I mean I can't get my dang .270 to shoot 150-grains bullets, so I want to swap it for one that does. Now why do I shoot heavy bullets? Essentially, because they retain velocity longer than lighter bullets, and offer better penetration on game animals. Sure, lighter bullets boast a higher muzzle velocity, but who shoots game animals at the muzzle?
Now all of this is a relatively moot point when you're shooting whitetail deer at 85 yards with a .30-06, as the potential venison is unlikely to take a 150-grain shot through the boiler room and run off thinking, "Dang – glad that wasn't a 180-grain!" When hunting elk at 400 yards, it's anything but a moot point. In either case, I really do take satisfaction in going to work with the knowledge that I've armed myself with the best hammer available.
I said all that to say this:
Rather than a reboot of the .260, we now we have a charming, low-recoil 6.5 cartridge, readily adapted to longer, heavier projectiles; a cartridge that lends itself to superior performance both as a match cartridge and as a hunting round.
Move aside, .308 Win and .300 Win Mag. There's a hulking new long-range beast at the 1000-yard bench.
Well…. Except, it's actually smaller than the .308 or the .300, so I guess not that hulking. But still a beast.
- Neal